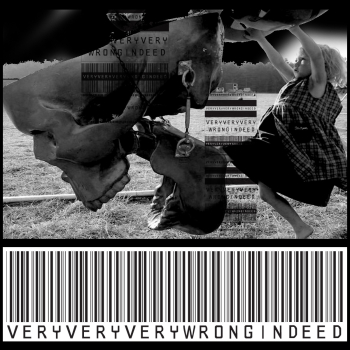 "Move Closer / Secret Society"
Paul Loraine
Veryverywrongindeed Recordings - VVWI023
Release Date: 19 Apr 2010
1. Move Closer Listen
2. Secret Society Listen
About:
VVWI returns to a much more familiar and darker landscape with these two murky subterranean creatures from the talented sonic pen of Paul Loraine. Already an established name and a very versatile artist, it became clear that Paul could deliver something dark and persuasive in the mold of VVWI's original sound. A lights-off, emotional and always epic groove originated from the sounds of Richard Seeley, Spektre and Tim Sheridan that characterised our original manifesto. It's time to return to that form we feel.
Move Closer has classic potential we shall hazard to say. Like the very best of music it establishes a very definite mood and manages to be (dare we say it?) sexy (we dared!) while maintaining a rolling funk that nods the head and rules the trouser. Egad.
Secret Society is the impossibly deeper illegitimate heir to "Move Closer" that was bricked up in the attic for fear of bringing shame upon it's lovely sister. It rolls, it jerks, it frigs (we made that last word up, we hope) and ticks every single VVWI box: Oddball, atmospheric, deep, and strange... and yet... definitely danceable.
A wonderfully strong couple of tracks which we are extremely pleased to have join what promises to be a very interesting first 6 months of 2010. Paul Loraine joins esteemed company with such VVWI luminaries and chums releasing soon. Soon to come on VVWI the likes of Richard Seeley, Timo Garcia, The Electric Press, Hotsand, Mr C ...and our evil leader Tim Sheridan shall direct proceedings from his undersea command centre with remixes and joint ventures with these forthcoming names.
Sincere thanks for your kind attention and we hope you will enjoy Paul's work as we have.
The VVWI team.
To listen to and/or download this ePromo, click this link:
http://www.veryverywrongindeed.com/releases/vvwi023.php
Credits
Written and Produced by Paul Loraine
Published by Musiqware Ltd
(P)(C) 2010 Veryverywrongindeed Recordings (Musiqware Ltd)
Contacts:
PRESS / RADIO / LICENSING: Herman Verkade @ Musiqware,
herman@musiqware.com
, +44-20-7043 8688.
VVWI BOOKINGS: Ben King, Radius Music Management,
www.radiusartists.com,
+44-20-7384 0555.